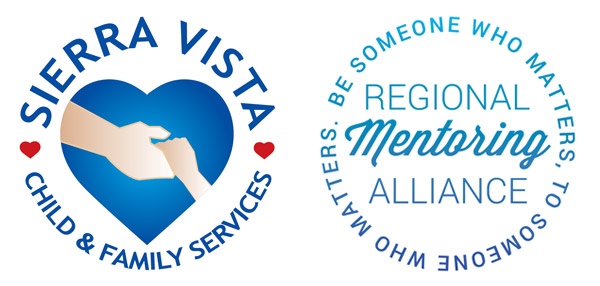 We partner with Sierra Vista Child & Family Services and their Regional Mentoring Alliance to provide mentors for our students. If you would like to make a difference in the life of a child through mentoring, please contact Sierra Vista Child & Family Services.
Mentoring is a one-to-one, non-judgmental relationship in which an individual voluntarily gives time to support and encourage a student that is struggling. Students who are chosen by their teachers are usually experiencing some difficulties or transition in their lives and could truly benefit from time spent with a reliable and caring adult. As such, mentoring may be described as the process of walking along beside a young person with the aim of helping them achieve their potential.
What Does Mentoring Look Like?
Mentors meet with their student once a week for an hour at the school site throughout the school year. Since the aim of mentoring is the relationship, time together can be spent reading, helping with homework, playing board games, kicking around a soccer ball or just talking. Teachers and staff work with the mentor to determine the day and time that works best for both mentor and student.
No special skills are required to be a mentor, one just need be supportive, open-minded and a good listener. Potential mentors fill out a mentor application and pass a background check. Once cleared and after a brief orientation, they are paired with a student and the weekly meetings begin.
If you would like to learn more about mentoring in Modesto City Schools, please contact Sierra Vista Child & Family Services.