Modesto City Schools is enhancing student bus rider safety and school attendance with a new hi-tech system designed to provide instant, online information about student ridership. The program known as Zonar Z Pass empowers parents, guardians, and select authorized district staff to track their student's bus on a secure digital app.
Z Pass enhances student safety and school attendance by knowing when and where students get on or off the bus. Families and authorized staff can securely access this data online from only their student, anytime, to protect those on board and make the most of the fleet.
The Z Pass technology:
Safeguards riders by knowing who is on which bus, and where, at any moment.

Helps locate children by quickly identifying when and where a rider got on or off.

Quickly and accurately helps parents who are looking for their child's bus.

Analyzes historical ridership data by bus to optimize routes and stops.

Promotes student attendance and provides families peace of mind.
Each rider is given an RFID card with a unique identification number. Riders scan the card to the Z Pass reader by the bus door as they board and exit the bus. Z Pass securely captures and transmits the date, time, and location of the scan. Families and authorized personnel will soon be able to gain secure instant online access to the information through the Zonar MyView mobile app. Once the app is available, parents can track the bus, receive notifications for when and where their student gets on or off the bus, as well receive alerts about any bus changes or delays.
As part of a soft rollout of the program, Modesto City Schools will begin distributing the Z Pass RFID cards to bus riders and their families during their school's roundup event prior to the start of school. Families will be given information on how to use the cards. The MyView app will be made available this spring. No student will be denied a ride if they do not have their card with them.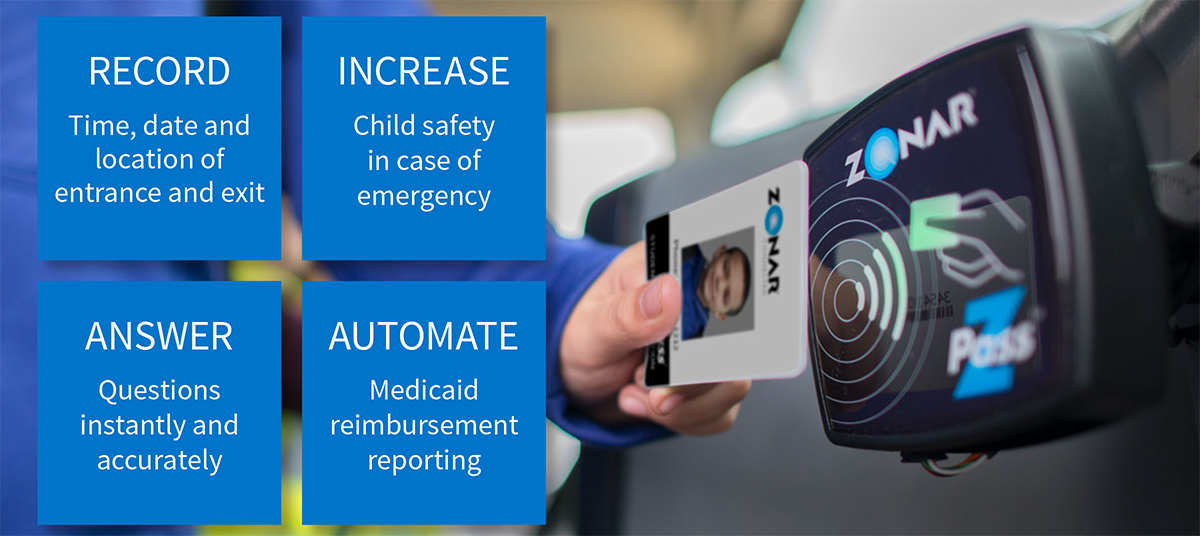 Smarter Student Transportation
Zonar Z Pass improves the safety and efficiency of pupil transportation with a patented RFID data collection process that provides instant rider information to decision makers. With Zonar Z Pass, schools know the time, date and location of each entry and exit from the bus for real-time child search, child check and Medicaid reporting.
Each student is issued a unique Zonar Z Pass RFID card. Upon entering or exiting the bus, the time, date and location is captured, securely transmitted and accessible via Zonar's Ground Traffic Control® and the Zonar Pass+™ parent portal. Zonar Z Pass helps reduce parent inquiries, increase safety and streamline Medicaid reimbursements.
Features and Capabilities
Features & Capabilities include:
RFID reader

Passive RFID cards

Zonar Z Pass+ parental portal

Immediate data transmission

Simple mounting system

Low-power sleep mode

Web-based reporting

Special needs reimbursement

4.2" W x 4.2" L X 1.2" H

Edison Award Winner
Frequently Asked Questions
For help or assistance please contact the Modesto City Schools Transportation Department @ (209) 574-1621